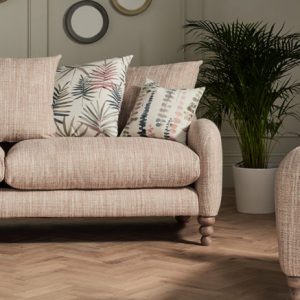 Tivoli is a delightful, sumptuous blend of the classic with the modern. Beautifully appointed, this model provides a warm welcoming appeal from the first impression. A subtly sculpted arm and frame profile only add to the charm.
Frame:
Super tough hardwood construction, pinned, screwed and glued.
Arms/Back: 
The Combi-Unit backs are made up of Superloop springs, the Sofas, Cuddler & Chair have elastic webbing, covered with foam.
Back: 
Hand-tensioned elastic webbing covered with foam.
Seat: Traditional sinuous zig-zag springs covered with foam. SSeat Cushions: This range has the option between luxurious feather/fibre or Trustworthy Foam. Back Cushions: High quality Fibre. Scatters: 100% duck feather. Feet: This model has solid wooden feet in a choice of 5 coloured finishes.
Read more